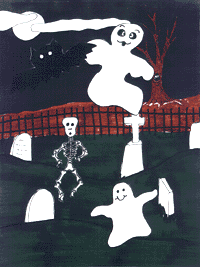 I've heard tales of goblins,
witches and ghosts,
but those blood sucking vampires
scare me the most.

They say that in graveyards
if you see an open tomb,
you better run fast
before you meet with your doom.

Why would earthlings
celebrate such a day?
If it gets to be scary
I don't think we'll stay.

We're getting ready to land now,
I hope no one's near.
My friend's all excited
but all I feel is fear.