G IS FOR GIRLS
When it comes to noise and mess,
You know it's me or my sister Bess.
Dad couldn't resist interrupting at that one.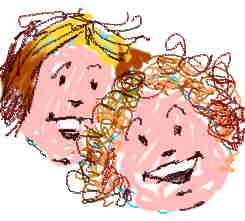 You've got me there, I'll say it's true.
There are no dull moments when it comes to you two!
They both laughed, and in that spirit Caroline began anew.
H IS FOR HAPPY
It's nice to cook and read a book,
But when I run, I have more fun.
I IS FOR IMAGINATION
When it comes to money, some wish for a million.
But as for me, I'll take ONE SKILLION!!!
J IS FOR JOY
For me, all it takes are toys and cake,
To keep me going in a joyful state.
Dad, laughing, glanced at his watch. "Well, Caroline, you know it is getting late and ..."
"But Dad, tomorrow's Saturday. Pleeeeeeeeeeeeeeeeeeze."
"Oh, I suppose it's all right," he shrugged, wondering at the same time why his older daughter Bess, now eleven, was so quiet in the next room. Probably reading, he thought. They were now up to K, with Dad pondering the next four letters.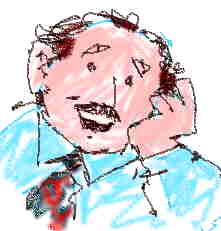 K IS FOR KINDNESS
One thought I try to keep in mind
Is things go better when you act kind.

L IS FOR LAUGHTER
Back in school my grades were bad.
'Cause my laughing made the teachers mad.